HYGIENE AND SAFETY MEASURES ADOPTED BY MONTE VELHO EQUO-RESORT AGAINST COVID-19
Monte Velho Equo-Resort is attentive to the evolution of COVID-19 and is monitoring closely the statements of the Centers for Disease Control and Prevention (CDC) and the World Health Organization (WHO) on cases of COVID-19 (coronavirus) and following the guidelines of these agencies and the national healthcare service in Portugal, the Servico Nacional de Saude (SNS), to constantly update the hygiene and safety procedures adopted in all areas of the hotel.
Monte Velho Equo-Resort priority now is to maintain the highest hygiene standards and preventive measures to guarantee the quality and safety of all, to ensure the normal functioning of the resort.
The measures implemented will be strictly followed by the ladies and gentlemen of Monte Velho Equo-Resort, who will receive frequent training. Measures will also be requested from our esteemed guests, ensuring that their stay runs as safely as possible, mitigating any risk of infection.
Monte Velho Equo-Resort received the Clean and Safe stamp of approval, issued by the Turismo de Portugal to distinguish tourist activities at national level which are compliant with hygiene and cleaning requirements for the prevention and control of COVID-19 and other possible infections, according to the recommendations of the DGS - Directorate-General for Health.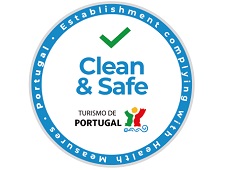 COVID 19 situation in Portugal
Although the situation in Portugal regarding COVID-19 is pretty serious, most outbreaks have taken place in the suburbs of the Lisbon region and Northern Portugal.
The Alentejo region which represents about a third of all Portugals area, and in which Monte Velho is inserted, had less than 30.000 cases accumulated so far (around 3.5% of Portugal total). In our municipality of Arraiolos, there has been very few cases of COVID 19 (less than 150) and we hope it keeps this way.
Given the fact that we are completely isolated from any village or city, that we have only 9 rooms, and that we are taking things very seriously, we honestly believe Monte Velho can be one of the safest destinations!
Last updated 04/02/2021
Testimonials
Testimonials from some international guests regarding their stay in Monte Velho during COVID19 times!
Our commitment to cleanliness:
We take hygiene and cleanliness standards very seriously and are taking additional steps to ensure the safety of guests and employees. Every member of the staff of Monte Velho Equo-Resort is committed to ensuring that the latest hygiene and cleanliness guidelines are followed daily. Our health and safety measures are designed to handle a wide spectrum of viruses, including the coronavirus, and range from hand hygiene and cleaning product specifications to cleaning procedures for rooms and common areas. The specific actions that Monte Velho Equo-Resort is taking include:
Health, safety, and knowledge of the staff (employees): The staff of Monte Velho Equo-Resort, as well as their health, safety, and knowledge, are essential for an effective cleaning program. Here are some ways in which we support them:
Hand hygiene
Washing our hands properly and often is vital to help fight the spread of viruses. In our daily meetings, teams are reminded that cleaning starts with this simple gesture. This is important for the health of employees and our guests.
Protective gear
All members of the staff are provided with the appropriate protective gear, according to their function, and are required to wear them at all time in all indoors guests areas.
Continuous training
In addition to training in cleaning and hygiene protocols, employees are also undergoing training to improve awareness of COVID-19.
Real-time information
Our teams are on alert 24 hours a day, seven days a week, to provide the necessary support and work with local and regional authorities. Our staff is testes for COVID-19 whenever there is a slight suspicion they were in contact with the virus or reveal any of its symptoms.
Cleaning protocols and products
In the coming months, when guests are back at Monte Velho Equo-Resort, they will notice the various complements to our cleaning regime, planned to set an even higher standard of cleaning.
Surface areas
COVID-19 has raised awareness about the importance of high-touch surface cleanliness. In public spaces, the company has added to its already rigorous cleaning protocols, requiring that surfaces are thoroughly treated with hospital-grade disinfectants and that this cleaning is done with increased frequency. In guest rooms, the company has likewise added to its rigorous protocols, requiring that all surfaces are thoroughly cleaned with hospital-grade disinfectants. Monte Velho will also be placing disinfecting wipes and disposable masks, in each room for guests personal use.
Contact with guests
The CDC and WHO warns about direct, person-to-person contact as the primary way COVID-19 is spread. To help alleviate the risk of transmission this way, Monte Velho Equo-Resort will be constantly reminding guests to maintain social distancing protocols. The resort is also implementing measures recommended by the government and the DGS - Directorate-General for Health to provide an extra level of precaution for our guests and employees and is working with supply chain partners to make masks and gloves available to employees. The distance between tables and the reduction of maximum capacity will also be adopted in restaurants. Monte Velho is installing more hand sanitizing stations at several places in the hotel area.
Food Safety
Monte Velho food safety program includes enhanced sanitation guidelines for all operational employees that include hygiene and disinfecting practices. At Monte Velho, all food handlers and supervisors are trained on safe food preparation and service practices. Also, the resort is modifying its operational practices and therefore completely eliminate the buffet.
Activities
Monte Velho activities are exclusively performed outdoors. Riding lessons or trailrides are always performed outdoors, and complying with social distancing between riders and instructors. The horse is handed to the guests outside the stables after the saddle and reigns disinfection.
Swimming pool and jacuzzi
Our pool and jacuzzi area is open to guests, after complying with the DGS recommendations of extra disinfection of the water with appropriate products. Social distancing is guaranteed between guests.