YOGA SEAT TRAINING WITH PIA WALLBERG
Monte Velho Equo-Resort is glad to offer you the possibility to improve and relax your posture on a horseback, with the international specialist Pia Wallberg.
During this week, you have the possibility to add to your riding program some private sessions of seat training and relaxation.
It is a once on the lifetime opportunity!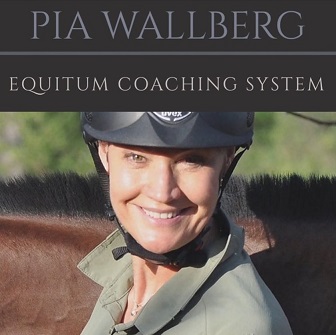 Pia Wallberg
Pia has been working at/ in MV for the last 6 years with yoga groups and seattraining. She has also trained our olympic rider Joao Torrao al the way to the Olympics in Tokyo.
She has a long experience from working with riders and her system, ECS, is a psychophysical coaching system aimed at making you a better horse rider and lead you towards your full potential. The system is based on different parts such as, physical, mental and goal setting.
More information about Pia: piawallberg.com
Seat training on the horse:
A good seat is essential for a horse rider. Most of us know the seat is important but despite this knowledge we might not know what we need to do to make the necessary changes and how much a bad seat effects your and your horse ability to perform at your best.
The seat training Pia provide will identify and make you aware of the weak links in your seat, but also give you tools your need to help your resolve the problems.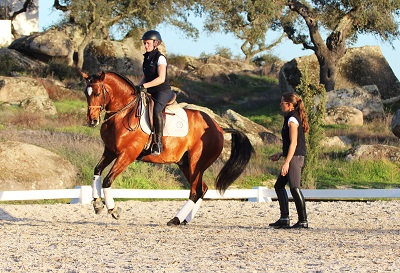 Yoga for riders off the horse:
Pia has been working with yoga for over 20 years. And she has created a yoga system specialized for riders, SattvaRidersYoga. Yoga has the wonderful power to challenge and strengthen a persons physical and mental weaknesses in so doing reaching balance. Sattva means balance or balanced energy, and when we are balanced as we need to be in riding, we will have the best possible prerequisite for success.
No previous knowledge is needed, only the desire to become a better horse rider!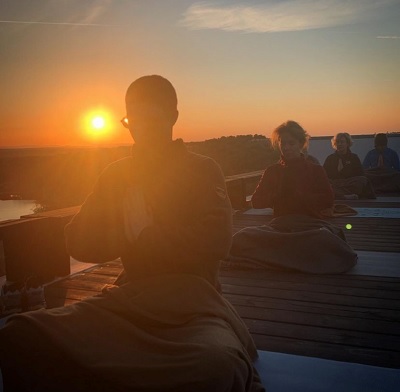 Testimonials
My Name is Joao Torrao, I am an international dressage rider at Grand Prix level. Pia and I started working together 2015. She really is a great addition to our team. Basically Pia helps me to be a more balanced person for both my professional and my personal life. In the physical aspects, she helped me to get more even in the saddle, stronger in my core and to have more knowledge about my body. Now I know better how to influence my horse by using my seat. Pia has been teaching me some breathing exercises to help me get focused and calm down when I am a bit more stressed or cheer me up when I am a bit more down. She also helped me to set my goals and how to build the road to achieve them. In the past years Pia has become my advisor and above all a very good friend of mine.
Joao Torrao, Olympic Dressage Rider
CONDITIONS:
Dates: 13 to 19 February
Group Size: 8 to 10 persons
Prices: The program prices consists in the 2022 Low Season Program, plus a minimum of 2 private yoga sessions and 2 seat trainings together with riding instructor.
Riding Program (The prices given are per person)

2022 Price list*

Regular Dressage Programme (1h lesson / day)
Intensive Dressage Programme (9 x 1h lessons and 1 x 1,5h horseback ride
Mixed Programme ( 1h lesson and 1,5h horseback ride / day)
Horseback Rides Programme (1,5h horseback ride / day)
Intensive Horseback R.
(2 x 1,5h horseback ride / day)
Non-Riders
Premium Rooms
Single Ocupancy
1180 €
1470 €
1330 €
1005 €
1155 €
-
Double Ocupancy
1030 €
1320 €
1180 €
855 €
1005 €
705 €
Standard Rooms
Single Ocupancy
910 €
1200 €
1060 €
735 €
885 €
-
Double Ocupancy
910 €
1200 €
1060 €
735 €
885 €
585 €
Extra bed
760 €
1050 €
910 €
585 €
735 €
435 €
*(The programmes include all meals from dinner in the day arrival to breafast in the day of departure.)
Pia Sessions
Personal yoga session - 100 € (one guest) 50 min
5 x Personal yoga session - 400 € (one guest) 50 min
Shared yoga session - 75 € (two guests) 50 min
5 x Shared yoga session - 300 € (two guests) 50 min
Private training sessions on the horse - 75 € (one guest) - 50 min
5 x Private training sessions on the horse - 320 € (one guest) - 50 min
Shared training sessions on the horse - 50 € (two guests) - 50 min
5 x Shared training sessions on the horse - 225 € (two guests) - 50 min
Send email to book to reservas@montevelho.pt